David H. Levy Arizona Dark Sky Star Party II
Save

$ 0.00
Save

$ -149.00
Original price
$ 149.00
-
Original price
$ 149.00
David H. Levy Arizona Dark Sky Star Party II - Oracle State Park & Biosphere 2
Preliminary Schedule (Updated 6/11/2022)
We are excited to announce the second Arizona Dark Sky Star Party getting underway September 21-25, 2022. We are bringing an amazing group of speakers to the first IDA designated Dark Sky Park at Oracle State Park and to the University of Arizona's historic Biosphere 2.
Tickets secure your observing site (which allows camping) to set up your equipment and give you access to the lectures at Biosphere 2.
ADSSP II + Biosphere 2 will get underway September 21 and run through September 25th, 2022, featuring special lectures from the legendary Comet Discoverer David H. Levy, who will be joined with renowned speakers. 
Thousands of dollars worth of door prizes are being supplied by Explore Scientific.
Those who arrive at ADSSP at Oracle State Park with a ticket will receive gifts from the Explore Alliance. And these gifts you can use right away, including a Explore Scientific Red LED Flashlight to protect your night vision, a Wil Tirion Double-Sided Plansiphere to check rise and set times of the stars, a special membership in the Explore Alliance, and a gift card worth $25 from Explore Scientific. 
About Oracle State Park
While any star gazing event can be clouded out at any time, the average nighttime cloud cover fraction, measured from 2000 to 2020 for the month of September shows good prospects for clear skies in 2022. This visualization map (red is 100% cloudy and blue is 0%) consists of just over a million grid squares averaged across 19 to 21 years of data collection. The dataset comes from EUMETSAT's Satellite Application Facility on Climate Modelling (CM-SAF).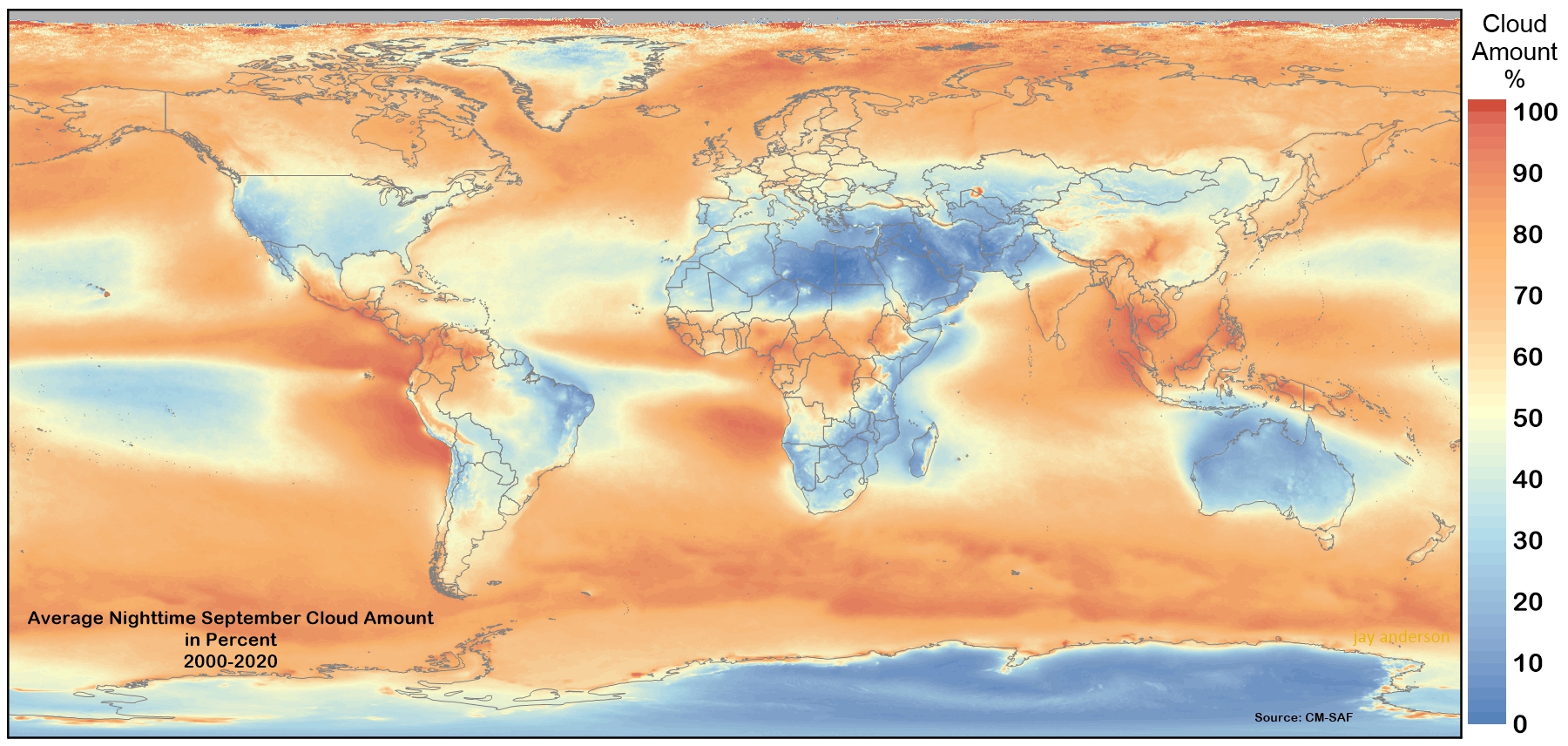 Another great resource is the Clear Sky Chart for Oracle State Park from Attilla Danko.
NOAA Historical Data Temperature and Precipitation September 2021 
| | | | |
| --- | --- | --- | --- |
|  Date | Temp High F | Temp Low F | Precip Inches |
| 9/21/2021 | 98 | 65 | 0.00 |
| 9/22/2021 | 96 | 67 | 0.00 |
| 9/23/2021 | 85 | 68 | 0.05 |
| 9/24/2021 | 90 | 64 | 0.00 |
| 9/25/2021 | 92 | 68 | 0.03 |
Moon Data during ADSSP at Oracle State Park
| | | | |
| --- | --- | --- | --- |
|  Date | Rise (Local Time) | Set (Local Time) | Phase |
| 9/21/2022 | 1:58 AM | 4:28 PM | 14% |
| 9/22/2022 | 2:56 AM | 5:02 PM | 8% |
| 9/23/2022 | 3:56 AM | 5:33 PM | 3% |
| 9/24/2022 | 4:55 AM | 6:01 PM | 1% |
| 9/25/2022 | 5:54 AM | 6:29 PM | 0% (New) |
Accessibility
Much of Oracle State Park is accessible by wheelchair or for those with mobility issues  with the exception of the historical buildings of which the park is unable to alter. Parking and many pathways are on hard level surfaces, with some surfaces that include gravel. A public toilet is near the historic Kannally Ranch House has guard rails and is large enough for wheelchair access.  
Telescope Field/Group Camp Site
You will have full access to the group site where we will be setting up our telescopes. There is 24-hour access to bathrooms on the observing field.
Telescope Power
Oracle State Park has limited electrical power at the astrophotography group site for your telescope gear and computers on a first-come, first served basis. Generators can be used at your camp site, but consider that you will be working off-grid. If you need power, bring your rechargeable power equipment. Explore Scientific offers the USB Power Bank with Red LED Flashlight. If you need more power that operates silently, consider fully integrated solar generator solutions from companies like Goal Zero. 
Biosphere 2 Tours
Your ticket will include a tour of the Biosphere 2 Perhaps for some of us it will be the first time to visit this amazing and historic science facility. 
Originally initiated by Space Biospheres Ventures who purchased the property in 1984, began construction of the current facility in 1986 to research and develop self-sustaining space-colonization technology. 
Two missions, between 1991 and 1994, sealed Biospherians inside the glass enclosure to measure survivability. Behind this highly public exercise was useful research that helped further ecological understanding. Several first-person accounts have been published by former crew members that provide different perspectives on the experiment. Now you too will be able to inspect first-hand the sealed environment of Biosphere 2. 
What is Not Included?
The Casitas Dormitories at Biosphere 2 
Note that the registration fees do not include hotel accommodations or meals. Here are options for area hotels and RV camping:
Getting There
Oracle State Park is a about an hour and twenty minute drive from Tucson International Airport.
If you are driving to Oracle from out of state, we recommend that you read this article about Preparing for a Star Party. It covers the safety considerations for any road trip and how to prepare your telescope gear.
Site Coordinates, Time Zone, and Weather
More